Svedjesång – a music and art performance created by Écran with guests
Svedjesång consists of songs, thoughts, voices about human choice and activities in an unpredictable, revolutionary and remarkable time.
Écran is Erik Högström's experimental analog synth project (more info in "Current projects").
This time Écran has a newly written, partly experimental text material inspired by contemporary talks, memories and echoes from the past woven into the music.
Participators: Nos/ Fredrik Holm (analog synths), Baby Sage/ Miranda Gjerstad (voice, keyboard, guitar), Doris Bengtsson (installation), Rasmus Alkestrand (sitar), Åsa Gjerstad (cello), Alex Berg and Sally O'Neill (dance), Kristian Nihlén (projections and lights), Henrik Wallin (further set of analogue module synthesizers). S:t Johannes church in Malmö. February 2019.
Taggotagg! 16 / Ancestral Modernism: Liv
Ying-Hsueh Chen and Lê Quan Ninh at Molekyl Gallery in Malmö. October 2018. Ying-Hsueh started the concert by conducting a breathing vocal choir put together only for this very occasion. Her newly composed piece "Liv" came to life with its great variety of respiration sounds, creatively interpreted by the "instant" choir. Lê Quan Ninh let us listen to a spellbinding but also energy rich percussion improvisation. Ninh has a very nuanced, expressive way of making certain sounds on his bass drum, cymbals and various objects.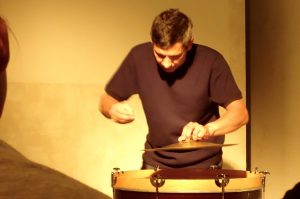 Ninh's set. A percussion improvisation.                           Ying-Hsueh's "Liv" performed by the "instant" choir.
Water Walk – a Performance Art Walk.                                                                                                            Participating in an art project created by I still live in water (Felicia Konrad and Johan Haugen) together with the artists Susanne Ovelius and Monika Gora. A ceremony and a tribute to water as the driving force of life. We walked by the sea from Kallbadhuset in Malmö and about one kilometre southover.  August 2018.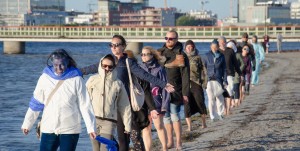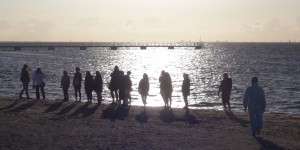 Photo: Noak Haugen Konrad and EH
Écran at Goodnight sun.                                                                                                                            The Erik Högström analog synth project involving Jonatan Sersam (synths), Rasmus Alkestrand (sitar) and Peter Tegnér (guitar). The vocal parts extended this time and both Rasmus and Jonatan made great additions. Peter made a nice, but short solo in the last piece. All went well with the extended technical level (double sequencers and drum machines, four synths and two organs). The concert ended in a most dramatical way as the very first rain that day caught us during the very last song! Some twenty spectators helped us with covering the sensitive machines with a tarpaulin during the short rain fall. Västra hamnen in Malmö. July 2018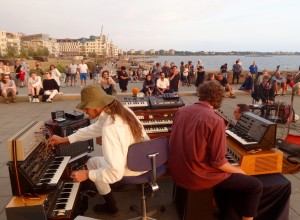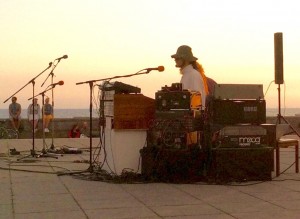 Photo: Alicia D'Ailly and Gunilla Eriksson
Tefra – an installation built on memories of earth.                                                                                    Made by Lotta Widebeck and EH at Klubb Kristallen, Klaffbron in Malmö. May 2018.
djupschaktsbuller i kraftfullt fundament
något växer ur underjordens vågor
en kropp, en klump brer ut sej
vid vävs ände nerv i flera lager
en tråd, ett budskap
framtidstrumpet, drömmen åter
i papyruslampans sken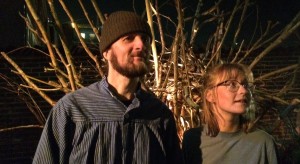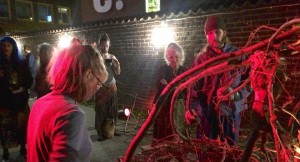 Lotta Widebeck and EH during the Tefra installation. Klubb Kristallen at Klaffbron in Malmö May 2018.                     Photos: Lotta Widebeck's camera
Taggotagg! 15/ Erik Bünger                                                                                                                                     The Elephant who was a Rhinoceros is a lecture performance that investigates the foundational role that the animal plays within human language, as a name for that speechlessness from which speech once took off. Erik Bünger is a Swedish artist, writer and composer living in Berlin. Throughout his work he investigates human language by focusing on linguistic concepts, which explicitly point to something beyond the linguistic realm. Taggotagg! 15 was held in november 2017 at Galleri 21 in Malmö.
Water is instinct                                                                                                                                                            The water is instinct/Vatten är instinkt performance is a durational performance by the intuitive art project I still live in water, run by Felicia Konrad and Johan Haugen. The participators, Annou Nilson, Johan Haugen, Felicia Konrad, Andreas M Larsson and EH presented a three hour long cooperative work based on pictures of water and civilisation. Ribersborg in Malmö in august 2017.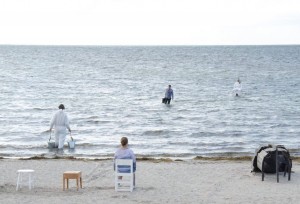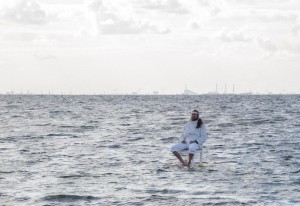 The water is instinct performance at Ribersborg in Malmö.  Photo: Noak Haugen Konrad
Body, sound and material experiments in nature.                                                                                                     Visiting nature for experimenting with body, sound and material during 2017-2018. So far visited: Ehrendal near Gnesta, Galterö in Gothenburg, Rosenkällasjön in Linköping, the golf course in Falsterbo, the Tromsdalstind mountain in Tromsö, Agaete valley in Spain and Apelviken in Varberg.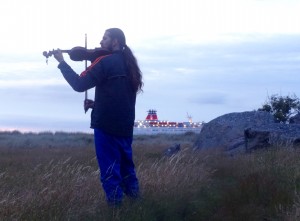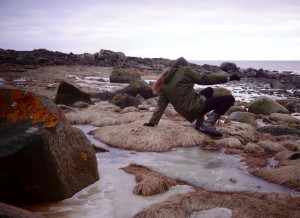 Making music with birds in Galterö/Gothenburg 2017.      Sea side movements in wintertime. Varberg 2018.
Summer activities in Malmö 2017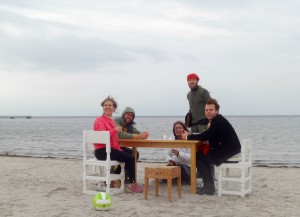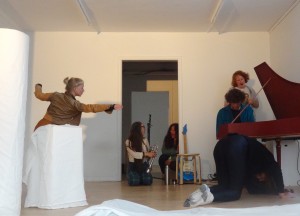 Left: The water performance group at the Ribersborg beach in august. Annou Nilson, Johan Haugen, Felicia Konrad, EH, Andreas M Larsson.  Right: The music and movements jam at Galleri 21 in july 2017. Selma Kjesen, Unni Zimmerdahl, Felicia Konrad, Jonatan Sersam, Josef Söreke, EH.
Taggotagg! 14/ Globalium                                                                                                                             In april 2017 Taggotagg! and Molekyl gallery created a ceremony in which the audience got in touch with the earth layers, life tissue and the remarkable phenomenon Globalium. Globalium exists in the dream and in the collective memory. Occasionally it takes a physical form. Globalium is the hidden thread which gives us the opportunity to discover what we have forgotten or what we are missing. In this context Ying-Hsueh Chen made remarkable improvised percussive music and ritual actions together with the group. The 14th Taggotagg! salon took place on the same day as the ninth celebration of Mother earth day. Participators: Ying-Hsueh Chen. (Copenhagen) Percussion, ceremony performer. Lotta Widebeck: Live floral arrangement. Nils Bergendal: A film without a title. Peter Tommila (Copenhagen): Ceremonial depth design and assistance. Josefin Hildor: A film without a title. Johan Sandström: Design assistance and support. Erik Högström: Host, performer.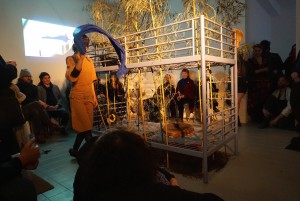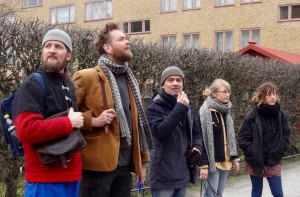 First three photos: Ying-Hsueh Chen. The group photo: from left: Erik Högström, Peter Tommila. Johan Sandström (running Molekyl gallery), Lotta Widebeck, Josefin Hildor
Taggotagg! 13/ Oona Libens                                                                                                                                The belgian-swedish artist Oona Libens has created Nausea, a deep sea expedition in which the audience will get to know various marine life forms on the way to the depth. There is a world of phantasmagoria and illusions beneath the surface! The audience is given the opportunity to follow how the analog projections, reflections and shadows are created. The piece is a hybrid of film, shadow play, pseudo science and poetry. A musical impro trio, consisting Josef Söreke, Tiina Markkanen and Jonatan Sersam performed in the large room. Taggotagg! 13 was held in february 2017 at Galleri 21 in Malmö.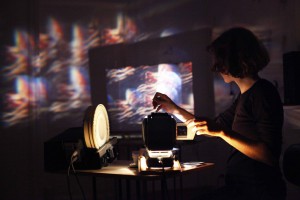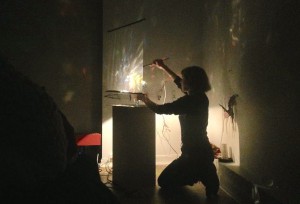 Taggotagg! 13 at Galleri 21 in Malmö. Nausea, during performance. Photo: Oona Libens, Josefin Gustafsson.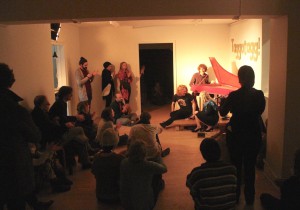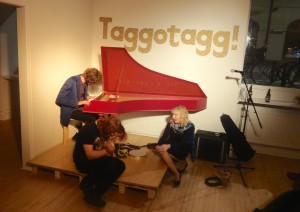 The Trio, with Josef Söreke, Tiina Markkanen and Jonatan Sersam. Taggotagg! 13. Photo: Herman Münzing and EH.
Taggotagg! 12/ Stormens öra                                                                                                                                Stormens öra is a three hour long collective experimental performance art piece built on images of human fields of communication and cooperation. Thirteen artists and musicians were involved. Stormens öra was made exclusively for the 12th Taggotagg! salon, which was held the 12 November 2016 at Galleri 21 in Malmö. Participators: Julia Rutt, Andreas M Larsson, Ida Mårdhed, Nos, Selma Kjesen, Kristian Nihlén, Morgan Schagerberg, Ingeborg Blom Andersskog, John McKenna, Herman Münzing, Maria Norrman, Tomellen Boije, Erik Högström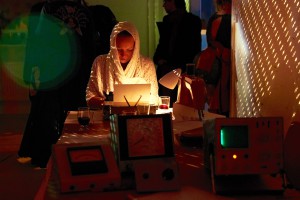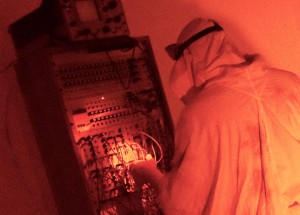 Stormens öra during performance. Ida Mårdhed in the headquarters. Photo: George.   To the right: Nos, Fredrik Holm, creating signals from the southern part. Photo: Ioana Cojocariu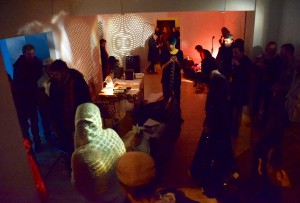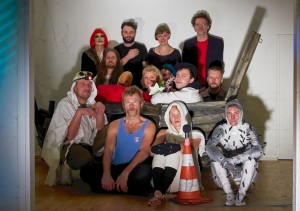 Stormens öra during performance. Galleri 21 in Malmö. Photo: Ioana Cojocariu.   To the right: the whole group      after the performance. Photo: George.
Stormens öra, Youtube: https://www.youtube.com/watch?v=spJbwiST3jc
Taggotagg! 11/ Syria                                                                                                                                            This Taggotagg! had a Levantine (Middle east) theme. Yazan Alqaq and Imad Tamimi made improvised music to improvised dance made by Nasreen Aljanabi Larsson from Stockholm. Hanna-Maria Strand sang a Wagner song together with an accordionist. Short films made by Nanda Al Dolani (Lebanon) and Abed Naji (Stockholm) were shown. The event was held in Suelleska villan in october 2016. It was created together with Nael Bitarie as a pilot for a Syrian-Swedish art and music project to be launched later on.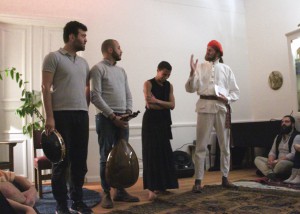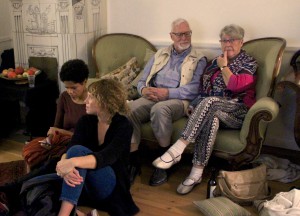 Yazan Alqaq and Imad Tamimi made improvised music to improvised dance made by Nasreen Aljanabi Larsson from Stockholm. Suellska villan in Malmö. Photo: Julia Rutt.  Right: Some of the visitors. Photo: Julia Rutt.
Taggotagg! 10/ Movements                                                                                                                                     Back on Friisgatan 16. The 10th salon was pretty much about movements. Ballet dancers from Split dance studio in Limhamn, Mengue flamenco from Lund and The Swedish Soundpainting Orchestra appeared and made that night whirling and inspiring. April 2016.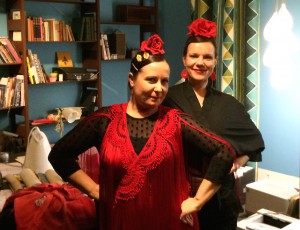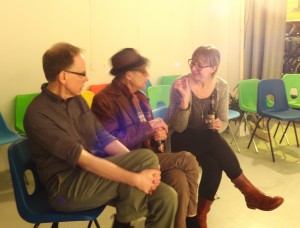 Taggotagg! 10. Mengue flamenco                                   Some of the guests.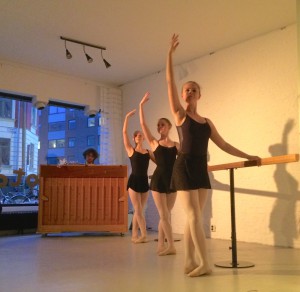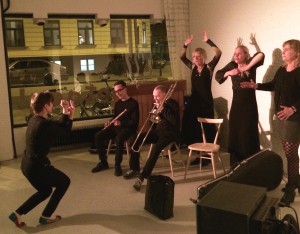 The ballet dancers from Split dance studio.                     The swedish soundpainting orchestra.                                     Photo: Karin Winnerholt and EH.
Taggotagg! 9                                                                                                                                                       The 9th salon was held at Smedjegatan in Erik's apartment. Josefin Bergman showed her biomechanical installation "Zooecia, att äta eller ätas" in her own room, the Pöntinen and Nästesjö version made new Music on a violin and a double bass, Imad Al Tamimi played some arabic songs on his oud and Maria Norrman opened up the servant's room filled with an air of Bacchus, surrounded by lace curtains and fin de siècle. And all of a sudden the pizza makers from downstairs came by with two giant pizzas, as a gift! A very nice evening it was!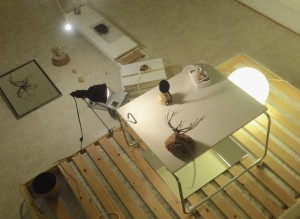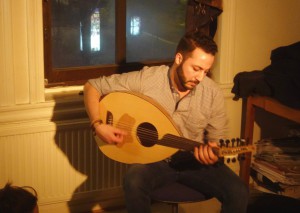 Taggotagg! 9 at Erik's Place in february 2016. Josefin Bergman's installation "Zooecia, att äta eller ätas". Right: Imad Al Tamimi with his oud. Photo: EH 
Taggotagg! 8                                                                                                                                                                 The 8th salon was held at Suellska villan in Malmö, both inside on the 2nd floor and in the marvellous garden. Involved people were: Erik Holmström & co (Malmö puppet theater) made a small scale puppet theater experiment. Anders Carlsson (theater Institutet) presented a kind of a love letter. Anna Fält (singer) sang archaic folk songs from Finland. Meramiyyeh, which is Cindy Mizher (singer) and Imad Al Tamimi (oud), played some middle eastern folk music. Nos (analog gear): made a couple of soundscapes. Kristian Nihlén (light projections). Erika Li (DJ).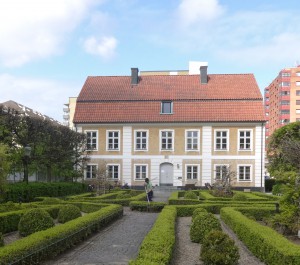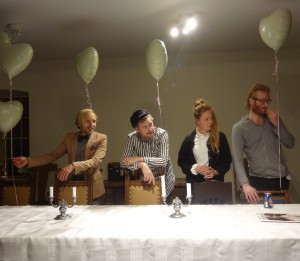 Suellska villan in Malmö, where the 8th salon was held in june 2015. Right: The theater people involved in the Taggotagg! 8: Anders Carlsson, Nils Dernevik, Maja Kall and Erik Holmström. Photo: EH
Other Taggotagg! salons: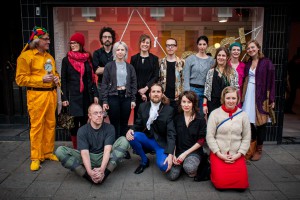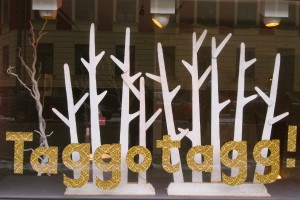 Most participators in Taggotagg! 2 outside the gallery room at Friisgatan 16. April 2014.  Right: The left window during Taggotagg! 1 in january 2014.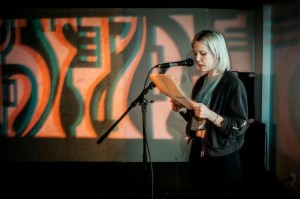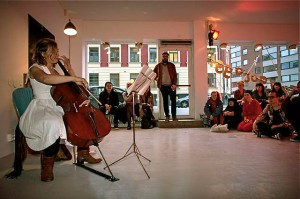 Taggotagg! 2. April 2014.   Left: Catherine Hellberg.      Right: Lea Havelund Rasmussen.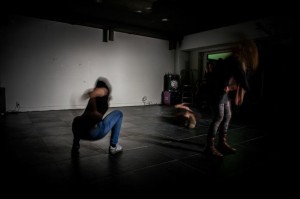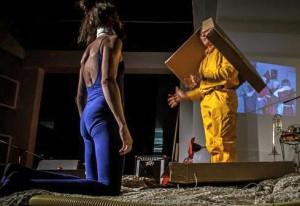 Taggotagg! 2. April 2014. Left: Annou Nilson, Elin Kattler & Sabrinha Lagoun.                                                            Right: EH and Tomas Halling in Xgloscho/guLängs StRynnd.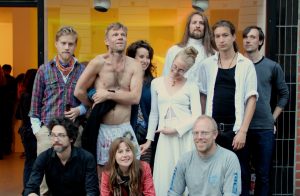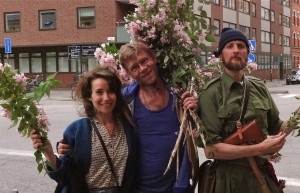 Taggotagg! 3. Left: most participating artists and the staff outside Friisgatan 16 in Malmö. Back row, Samuel Lundström, Morgan Schagerberg, Elin Kattler, Anna Fält, Erik Högström, Samuel Lundström, Martin Lindell. Front row, Dan Johansson, Helena Juréen, Nos/Fredrik Holm.    Right: Elin Kattler, Morgan S and EH in front of the gallery room after a flower picking expedition.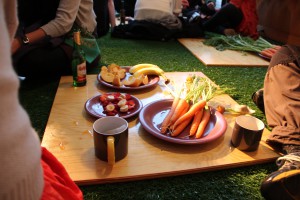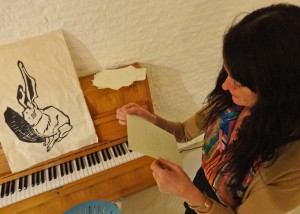 Taggotagg! 3 in june 2014. Left: some vegetables and some plastic grass. Right: Nehrin Ganno reading one of Helena Juréen's texts. Josefin Adde-Dahl's picture on the piano.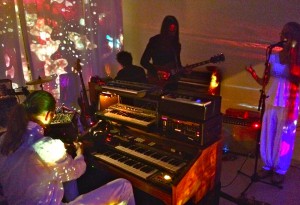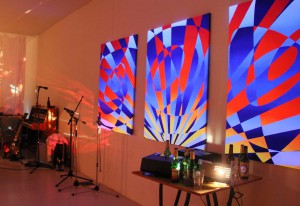 Taggotagg! 4. September 2014 (during the Malmö gallery night). A five-hour jam session with Kennet Andersson, Andreas Stefanssson, Anna Fält, Martin Holm, Unni Zimmerdahl, Dan Johansson, Nos/Fredrik Holm and Erik Högström.   Right: Acrylic triptych made by Nos.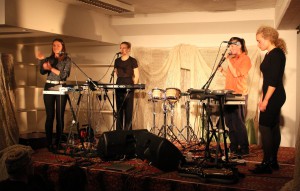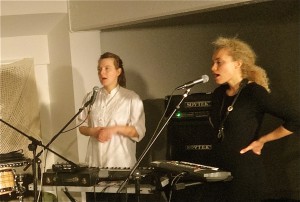 Taggotagg! 5. November 2014. Valby vokalgruppe from Copenhagen. Lil Lacy, Cecilie Trier, Anja Jacobsen and Sonja la Bianca.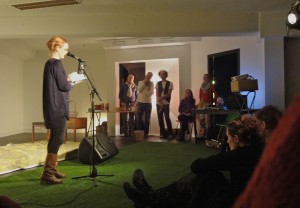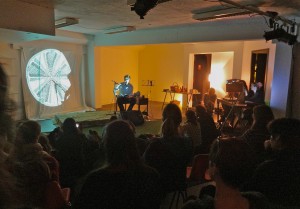 Taggotagg! 6 in December 2014. Left: Ida Börjel reading from "Ma".   Right: Nils M Karlsson reading from "Resa med batyskaf".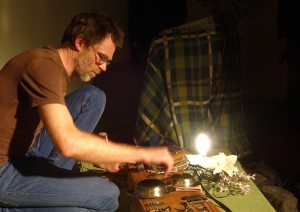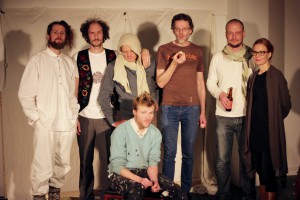 Taggotagg! 6. Left: Herman Müntzing. Group photo, back row: Erik Högström, Danilo Stankovic, Daniel Nilsson, Herman Müntzing, Andreas Stefansson, Ida Börjel. Front: Nils Markus Karlsson.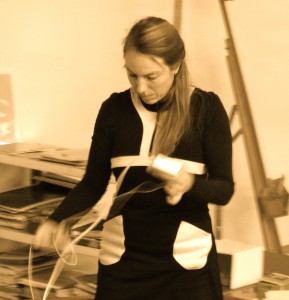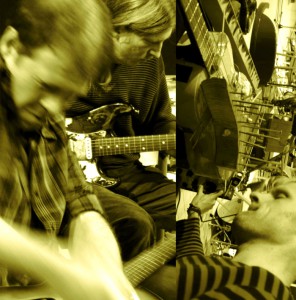 Taggotagg! 7. Left: Bianca Dugaro in her studio in Zürich.                     Right: Halster live.

Taggotagg!-photos: Laszlo Fodorpataki, Julia Rutt Petersen, Anja Grim, Andreas Stefansson, Halster and Erik Högström.
Écran (The Erik Högström analog synth project). Some more photos.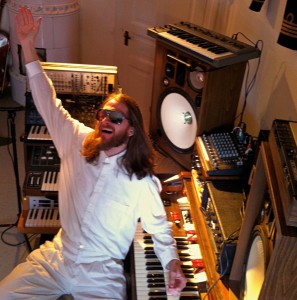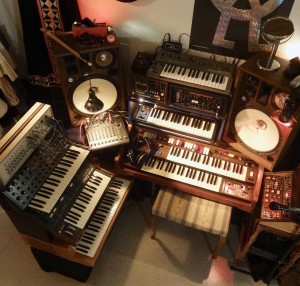 Top left: together with Rasmus Alkestrand in my studio at home 2016.  Top right: together with Per Lindmark at club Carnevalesque. Översten in Malmö 2015.   Down: Je me nagiers dans les synths! In the studio, Smedjegatan in Malmö 2015.
 Text-sound compositions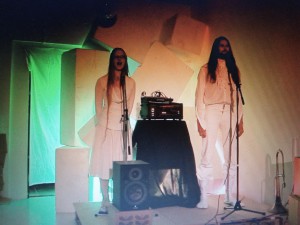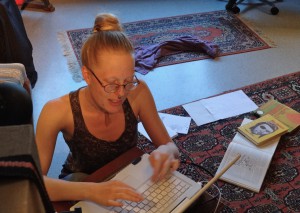 Left: The General B performance (with Anna Fält and Erik Högström) at salon Taggotagg! 3 in Malmö 2014. Photo: Julia Rutt-Petersen/ EH.    Right: Anna Fält during work with the piece. Photo: EH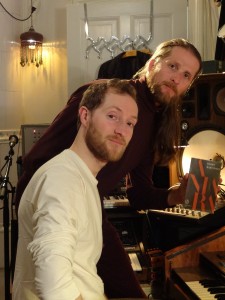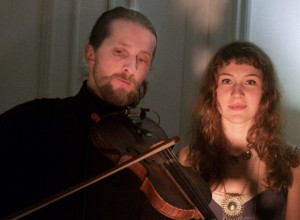 "Aniara -a space odyssey". Together with Lea Havelund at the Modern museum in Malmö 2013, in the studio with Carl D'ailly (my brother) 2014 and down right: with Anja Grim at Suellska villan 2013.  Photo: Tommy Lindholm, EH  and Lars Aage Nilsson.

Anti himlakroppar -an experimental cabaret/ music theater                                                                                    The project was a collaboration between composers, visual artists, visual and performing artists in Malmö. The cabaret was a part of Connect festival (Malmö academy of music). A number of scenes, primarily based on texts by Jules Forgue and Aphra Behn was created through a joint process and the result was presented in a cabaret form. The red room at IAC in Malmö the 20 November 2015.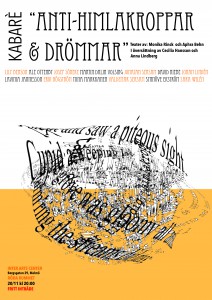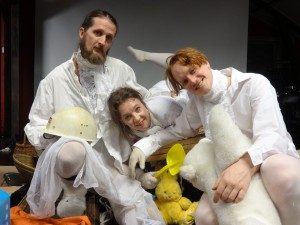 The poster (Lavinia Jannesson).              Right: The "Tsar bomb" unit. Photo: Liv Vesterskov, EH's camera.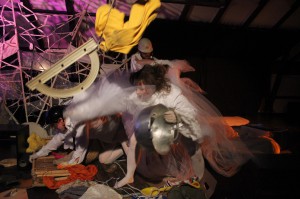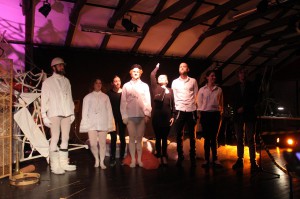 Left: from the last part of the performance: Josef Söreke, Sara Wilén and EH doing the "Tsar bomb".                       Right: some actors and technicians waving adieu to the audience. Both photos: Cecilia Damström.
The Gradients by Ignas Krunglevicius (Latvia). Voices by Mattias Nihlén and Erik Högström. Soft city, September 2015 at Inter Arts Center in Malmö.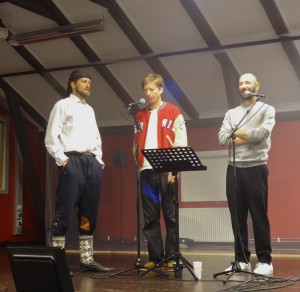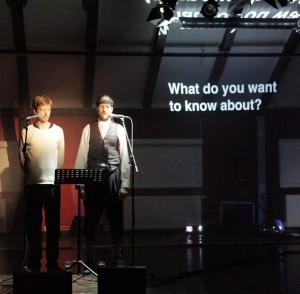 EH, Mattias Nihlén and Ignas Krunglevicius during rehearsal and during performance at Inter arts center in Malmö, September 2015. Photo: EH/IAC
Artist residency in Sokndal in Norway in August 2015                                                                                                I was invited by Maiken Stene* to an artist residency  in Sokndal (100 km South of Stavanger) together with nine other artists from Norway and Sweden. The group were gathered in the area of an abandoned mining site where Maiken has her magnificent atelier. I held a workshop based on the Klangrum project (described further down) based on my "inSpira" manifesto about society, responsibility and future. Local people were invited to a five-day cooperation which ended up in a presentation of a work in progress performance during an "open day" at the Velferden atelier.  *Maiken Stene is a norwegian artist living in Sandbekk in Norway and in Malmö.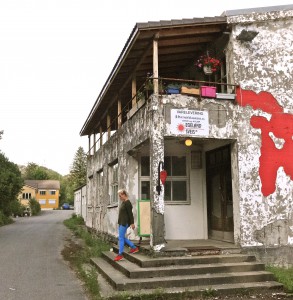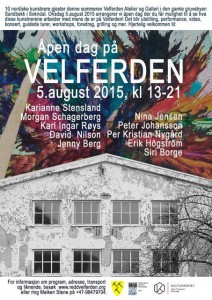 Outside Velferden atelier. June 2014. Photo:EH                      The "Open day poster" made by Maiken Stene.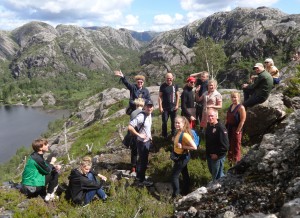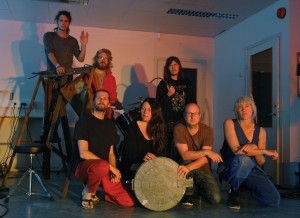 The group of artists på tur in Blåfjell Photo: EH.             The participators in the Klangrum workshop. Photo: EH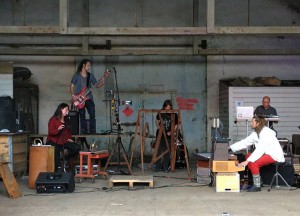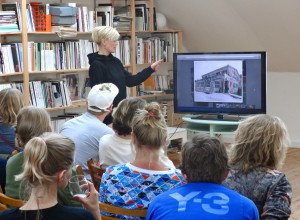 The Klangrum presentation close to Velferden.  photo: Karl Ingar Röys.    Right: Maiken Stene at Rogalands kunstsenter in Stavanger.  Photo: EH

Multiart multilingual summercamp in Nerohvirta in Finland. August 2015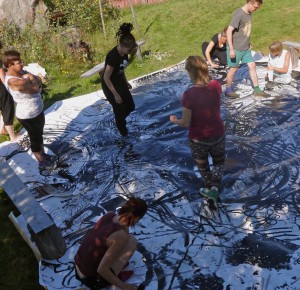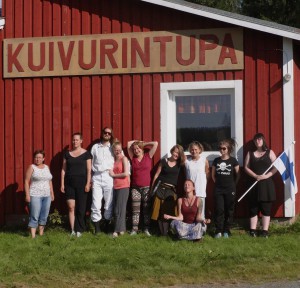 Ink and movements under the sun.                                   Most of the participators at Kuivurintupa. Photos: EH
Klangrum
This 8-year old project is still running and I'm now developing a more complete conceptual form. I am collaborating with various artists and writers aiming for a new, larger performance within a year or two. The latest version of Klangrum is When is the war coming?!, which reflects my concern about current movements in society. It deals with questions about civilisation. I want to talk about memory and communication in our time. Is there hope for a society which doesn't deal with perspective, solidarity and visions? The narrative is primarily done through text, music and dance. An early, however comprehensive, version of this was performed at Inkonst in Malmö 2008 (Klangrum -de vita fläckarna). This performance was presented in a full scale and involved ten musicians and five dancers. Klangrum was inspired by the manifesto text "inSpira", which i wrote to a large performance event in Johanneskyrkan in Malmö 2005. The Klangrum music was played on analog synths together with a rock music section and a string section. The dancers made repetitive walks and minimalistic movements. The 2008 version of Klangrum was created with great help from Adam Persson, Nos (Fredrik Holm) and Clara Kugelberg.
Klangrum at Inkonst in Malmö 2008.  Left: The stage area just before the concert. Right: The dancers walking in "interference mode". Photo: Laszlo Fodorpataki.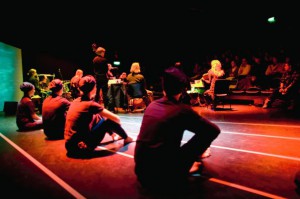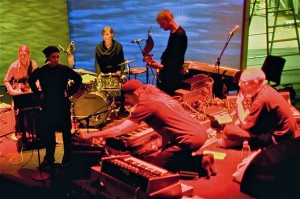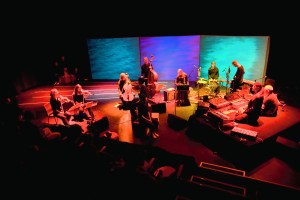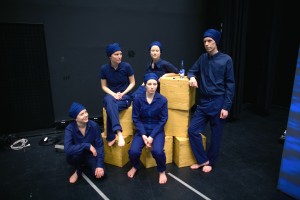 Klangrum -de vita fläckarna. Performed at Inkonst in Malmö 2008. An analog electronical music and minimalistic dance performance. Photo by Laszlo Fodorpataki.
Other projects and performances:
Drömkabinettet (the dream cabinet) -a part of the larger event "Education reversed" held in the S:t Edmunds church and the nearby located Fotogalleriet in Oslo in 2013. The event was created by Liv Kristin Holmberg. Photo: Matilda Höög.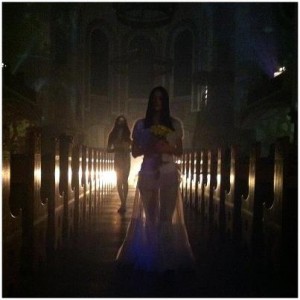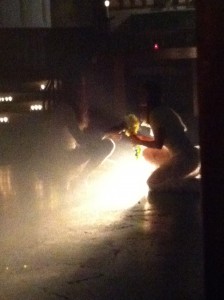 "Angels". A performance together with Sara Gilliard, Morgan Schagerberg and club Kristallen.  S:t Johannes church in Malmö 2012.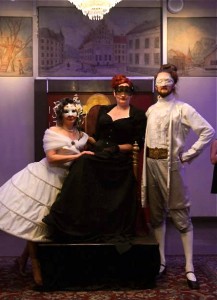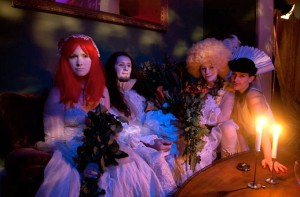 La contessa and her lackey's at the 2nd Carnevalesque. 2nd photo: The flower group at the 1st Carnevalesque club. Malmö 2012.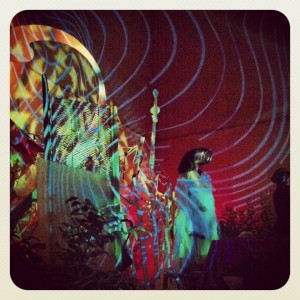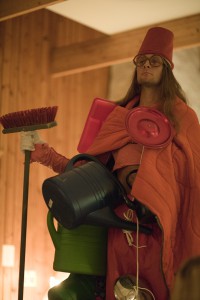 Gulängs Strynnd -the absurdistic-dadaistic never ending story in the early days. In the backyard of Smedjegatan 2008 and in Värnamo 2007. Photo: Nils Vaernö and Kurt Ekblom.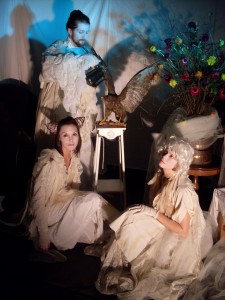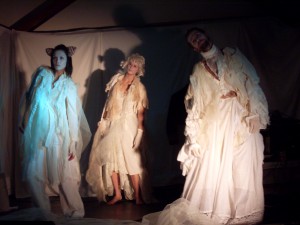 Weisse chocolat at club C-Y. Together with Emelie Nyman and Louise Vilstrup. Tröls in Malmö 2009. Photo: Romain.
Other photos: